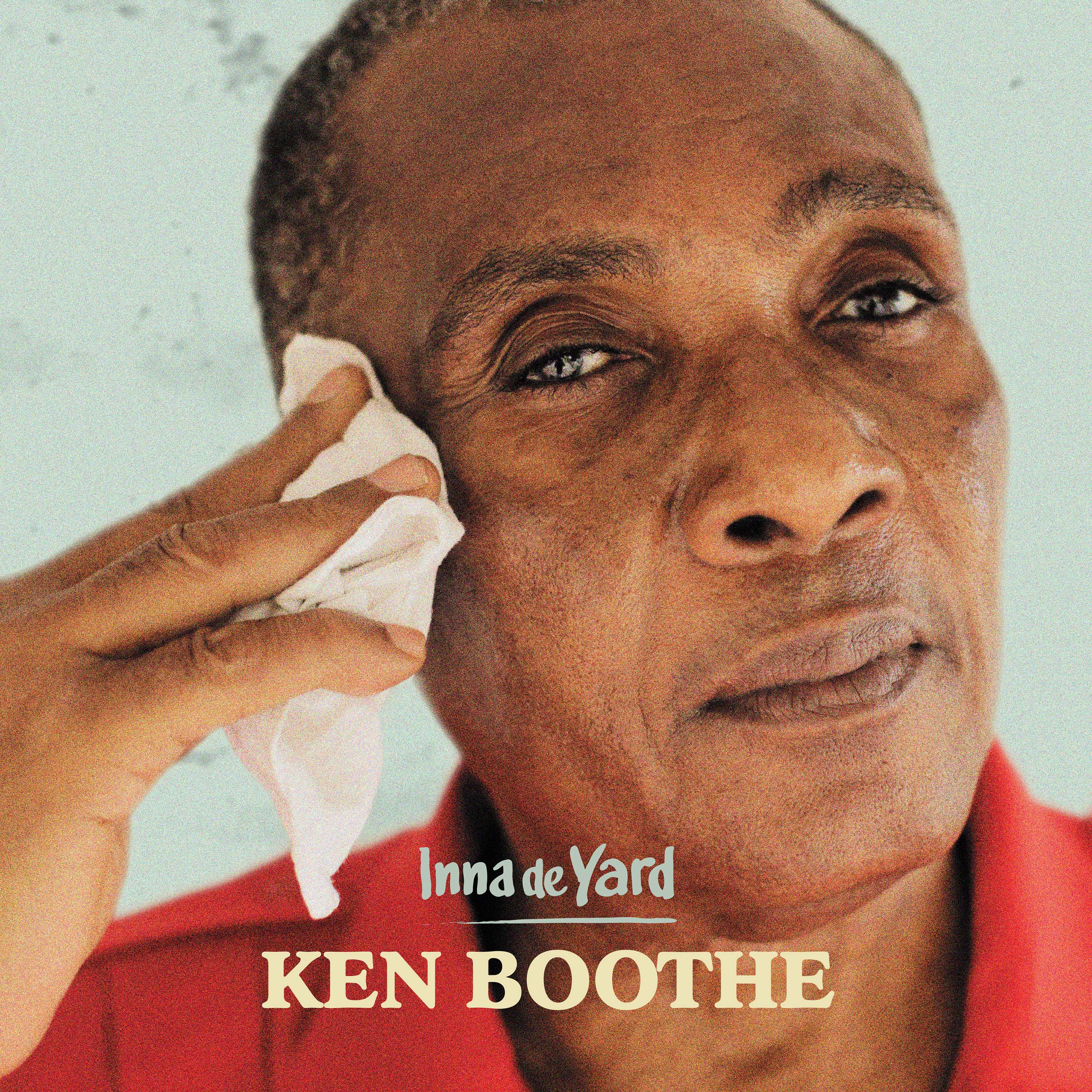 A famous French chemist and philosopher once said, « Nothing is lost, nothing is created, everything is transformed ». Does the same apply to music? From Mozart to Serge Gainsbourg, the greatest creators have always drawn on the works of their predecessors and contemporaries, before becoming influences themselves. So yes, music is about influence, borrowing from others, covering songs and… performing.
This is particularly true of Jamaica, where producers record the same hit several times, performed by different singers. Artists cover – and sometimes change – other people's songs, and the public and producers have always looked to their American neighbours for inspiration, drawing from its catalogue.
In this respect, Ken Boothe is definitely a very Jamaican artist.
The first track on his new album (his first for 25 years, at least internationally), « Speak Softly Love« , has a back story that perfectly illustrates this aspect of music. The song is known for having been written by Italian composer Nino Rota (lyrics by Larry Kusik) for the film « The Godfather » by Francis Ford Coppola. The original soundtrack became legendary at the time but was disqualified from its category at the Oscars: Nino Rota had already used the theme in another film twenty years before![1] What's even more intriguing is that this famous theme tune was itself borrowed from… Verdi's opera « La forza del destino ».
Ken Boothe covered the song in 1974, two years after the film's release, presumably inspired by Andre Williams's version in the USA. Suggested and produced by the brilliant Jamaican musician and producer Lloyd Charmers, it was released on Ken's best-selling album in England: « Everything I own ». The singer put his own personal spin on it, showing how the quality of the performer can give music and lyrics a new lease of life and make them universal.
More than forty years later, on the terrace of a house in the open air, he recreates the magic and transports us once again with this acoustic version: there's no doubt, he truly is « the Godfather ».
It's worth remembering that when the song was released in the mid-70s, Ken was at the height of his international success. « Everything I own », the other cover and title track of the album, was number 1 in England. It saw him invited to perform on TV shows, for his first trip to Europe! But his then record company (Trojan Records) went bankrupt, and although Ken now forgives them, it had a significant impact on the rest of his career. Regardless, Ken Boothe went on to have continued success with this hit, when it was covered again, more than ten years later, by Boy George in 1987 then by the band UB40 in the 90s, bringing rare recognition for a Caribbean artist at that time.
Ken Boothe had already been a star in Jamaica for several years, with a long list of hits to his name. He took his very first steps in the studio in 1963, at barely 15 years old with his partner Stranger Cole. They recorded « World's Fair », on behalf of the famous producer Clement Dodd and his Studio One (studio and label started in 1963). At that time, producers, originating from the sound system culture, were in fierce competition, and liked to show that they could discover new and young talent. And so began the career of this young singer from Denham Town, one of Kingston's more working class residential neighbourhoods, similar to its more famous counterpart Trenchtown.
After recording some songs as a duet, the island's leading producer quickly dragged Ken Boothe off to record alone. This gave us « Artibella« , his first solo hit. With a melody inspired by TV credits, Ken co-wrote the love song with Stranger Cole. His feverish and captivating performance made it a masterpiece, transcending the genre. From then on, love songs became something of a trademark, securing his popularity among Jamaican women even today. The « Inna de Yard » version of our record is led by the fabulous pianist Robbie Lynn, himself a signature sound of the sixties, and also includes the very Parisian accordion sounds of the French musician Fixi[1].
Right from the start, Ken was as productive as he was popular. Sometimes the Wailers would provide backing, like on his hit « The Train Is Coming ». « African Lady« , written by Bob Marley – another rising star of 60s Jamaica – sounds like a homage to his friend by Ken, in a version combining Nyabinghi drums and R'n'B soul arrangements.
This new album pays special tribute to this wonderful time, the most euphoric chapter in Jamaican history, a few years after the independence of 1962, sung by its best artists.  The frenzied ska of « I am a Fool » features alongside « I Don't Want to See You Cry« , with the latter written by another key voice of the time, and close friend of Ken, the melodious Bob Andy (who notably collaborated with Marcia Griffiths on the fabulous cover of Nina Simone's « Young, Gifted & Black »). Originally recorded in 1969, this new version of « Let The Water run dry » features the gorgeous vocal harmonies of the Viceroys trio. They also performed with the same Studio One producer in the mid-1960s. But this is the first time they have recorded together, 50 years later! Then comes the famous « You Keep Me Hangin' On« , originally written by Holland-Dozier-Holland for the Supremes, and popularised in Jamaica with the title « Set Me Free » on Ken Boothe's 1968 version. Finally there is « When I Fall in Love« , released the same year and which went on to inspire a cover many years later by Miss Dynamite in the UK. In this version, we once again encounter the intriguing accordion sounds of Fixi, along with the mystical harmonies of the Inna de Yard vocal all-stars, including Cedric Myton, Kiddus I, the Viceroys and Kimberley Goldson.
Like his contemporary Bob Marley, with whom he took his first steps in the studio, Ken Boothe was heavily influenced by great American soul singers. Like him, he successfully covered a number of hits. And while the future global reggae star was linked to Curtis Mayfield, Ken himself was compared to Wilson Pickett. But far from contenting himself with imitation, his inspirations fuelled his creativity. An iconic voice of ska, he was also a big name of the style that followed, and preceded reggae: « Rocksteady ». To the point that he was crowned « Mr Rocksteady » on the eponymous album released in 1968. And so, from a fascination for American music, Ken Boothe helped craft new musical styles introduced by Jamaica to the world, rewriting the history of their country as well as that of music.
While he is this historical figure  of Jamaican music, and while he is undoubtedly one of the greatest performers of love songs on the island, whose charm and sentiment he expresses so well, Ken Boothe is nonetheless imbued with Rasta culture, having seen its birth and spent his life alongside it. Without having shown it ostensibly at the time of reggae roots, when each artist proudly lay claim to dreadlocks, ganja and rasta militancy, the great Jamaican singer is nevertheless a fervent rasta, in a more intimate capacity.
This is also what excited him about the « Inna de Yard » project. Ken explains: « It's like playing with nature, and that's nice ». Besides playing live together just like back in the day (but this time acoustic and outdoors), the focus is on the Nyabinghi percussion, the central rhythm of the Rastafari groundations. The tracks « Black Gold and Green » and the last « Rastaman Chant » are proof of this. On « Black Gold and Green », Ken Boothe releases a powerful ode to his country, to the colours of its flag as much as the Rasta movement. The last track, on the other hand, combines the power of Nyabinghi drums, and the strength of soul and gospel, each key elements of the identity of Jamaica and Reggae. True to himself and his reputation, which never falters, 50 years after taking his first steps in front of a microphone, this fabulous and blessed artist delivers a masterful performance once again.
[1] « La Fortunella » by Edouardo di Fillipo
[2] Known for his successful 10-year collaboration with singer Winston McAnuff, a key figure in the Inna de Yard project.
Tracklist
1. Speak Softly Love
2. I am a fool
3. Black gold and green
4. Artibella
5. I don't want to see you cry
6. African Lady
7. Let the water run dry
8. When I fall in love
9. You keep me hanging on
10. Just another girl
11. Rastaman Chant
Et aussi...