Revoir le catalogue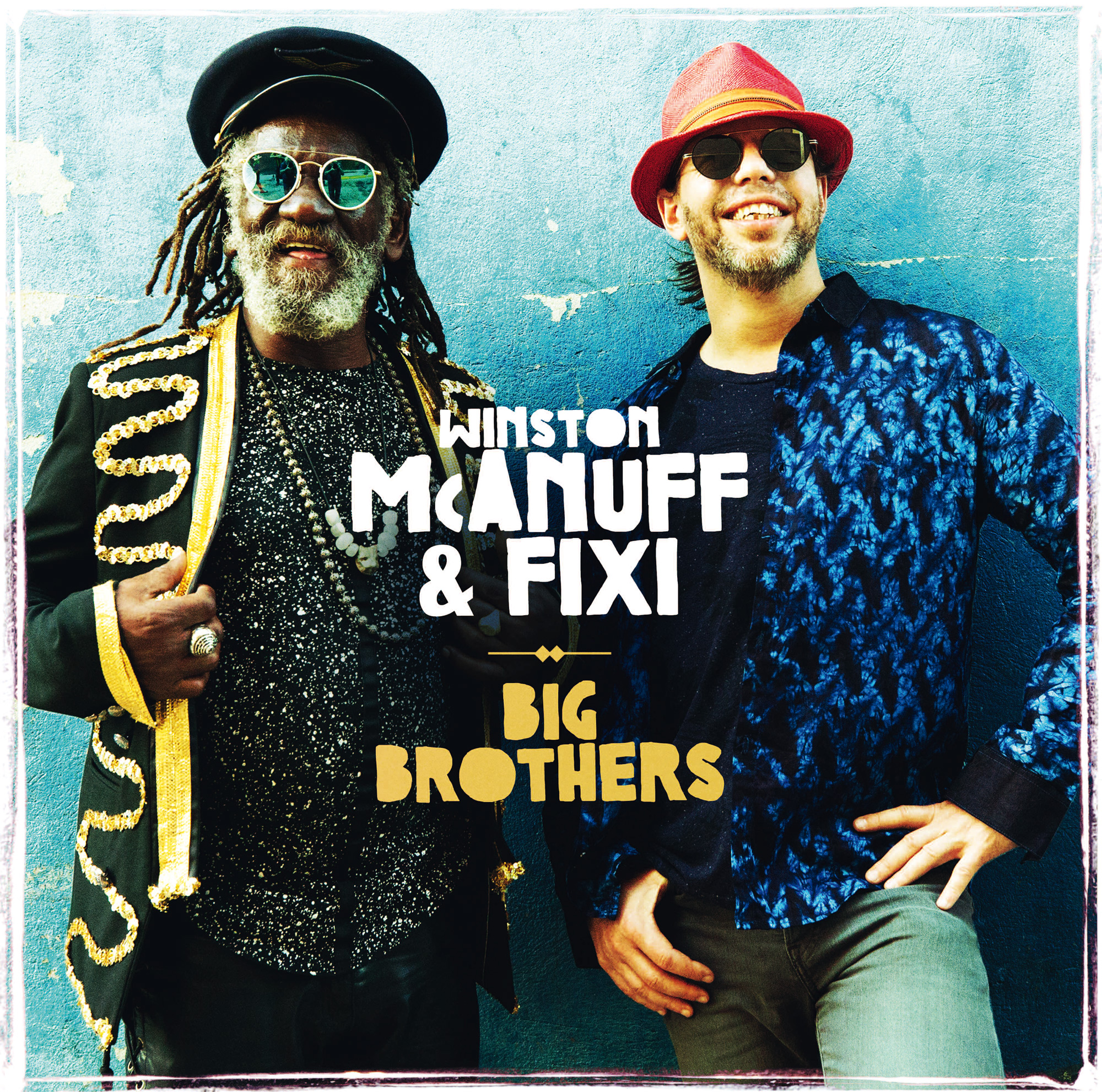 Winston McAnuff and Fixi's current relationship can be summed up in two words: musical fraternity. It presides over the spirit of this third « Big Brothers » opus, like a motto of their Republic sound.
« Fraternity », a term that can be written in French, English, Spanish, Portuguese, Arabic, Jamaican patois, Reunion Creole, Afghan dari, Malian Bambara and even Eritrean tigrigna. Because the album, as musically diverse as ever, was actually born in Calais.
In December 2015, at the initiative of their beatboxer concert partner Markus (Marc Ruchmann), Winston McAnuff and Fixi organised a New Year's Eve party for – and with – the migrants. In the company of Olivier Loustau, favourite actor of Abdellatif Kechiche and director of The Boss's Daughter (La Fille du Patron), the night was spent ringing in new year… every two hours! Because of everyone's different time zones, multiple midnights ensued, each presented in every language.
The humanity of this interaction, and the fraternal power of this Babel's feast, radiates in « Big Brothers », and especially resonates on the track « Crying for love ». Written by Winston McAnuff from the top of the cliffs of Dover, « Crying for Love » is an anthem for all those who have braved the seas in the hope of finding a land to call home, as well as an ode to hospitality. Through the melody, as beautiful as the rainbow imagined by Jimmy Cliff, the beating heart of percussion, the piano and the accordion intertwined, an island of possibilities becomes clear.
Since their first meeting on « Paris Rockin » (2007), a cult record celebrating the collaboration of Jamaican McAnuff with French band Java, Winston and Fixi have continued to forge a bond. After the success of their début album « A New Day » (2013), the singer, with his majestic gravelled tone, and the accordionist-sound director, are embarking on a new adventure. This « Big Brothers » tells of the intimacy and confidence that has developed between the two artists, a condition of their creative regeneration.
While they continue to draw on the musical fraternity we already know and love (the maloya of Olivier Araste from the band Lindigo, and Cyril Atef's Afro-beat drumming), new influences have made their way into this two-person democracy. Like the Cuban cha-cha-cha on the track « Big Brother », with its dancing piano, its psychedelic fuzz, and instantly catchy melody. As well as gospel and soul from Winston McAnuff's friends for the groovy chorus of « I came I saw », transcended by Fixi's funkadelic accordion.
It was this fraternal complicity that led Winston McAnuff to a song unlike any he's made before. On « Black Bird » he lets out high-pitched caws, becomes the narrator of a child's lullaby, leans over towards a Cat Stevens style, and caresses the pop folklore of the Beatles' « Norwegian Wood ».
Throughout the album, all the lyrics (often written by Winston on the road in Jamaica), share this « big brother » wisdom. They are maxims about life, confidences and parables, for achieving the only happiness that truly counts: one we have built for ourselves and that we can see when it is there. « Now you've got it, please respect it » Winston sings on « If You Want It So Bad". As for « Think », one of the album's key songs, it's an instant classic, hammering homes its ternary motto « think, observe and listen ».
The good news is that this « Big Brothers » is not really a brotherhood in the truest sense of the term. This second album is all about women. They make up the majority of the new band formed by Winston and Fixi. They are celebrated in love songs « Sweet love of mine » and « My Angel », from harmonica to melodica. And finally, Pongo, a Lisbon-based singer from Angola and the only featured artist on the album, takes the spotlight on the abrasive « One Note ». She launches vocal uppercuts, like a synthwave heroine crossed with an MC from the "Rappin Hoods of New York".
With « Big Brothers », fraternity is a party, and it's only just getting started.
Tracklist
1. Big Brother
2. My Angel
3. If You Want it so Bad
4. I Came I Saw
5. Sweet Love of Mine
6. One Note feat. Pongo
7. Think
8. Black Bird
9. Crying for Love
10. Good Feeling
Et aussi...