Revoir le catalogue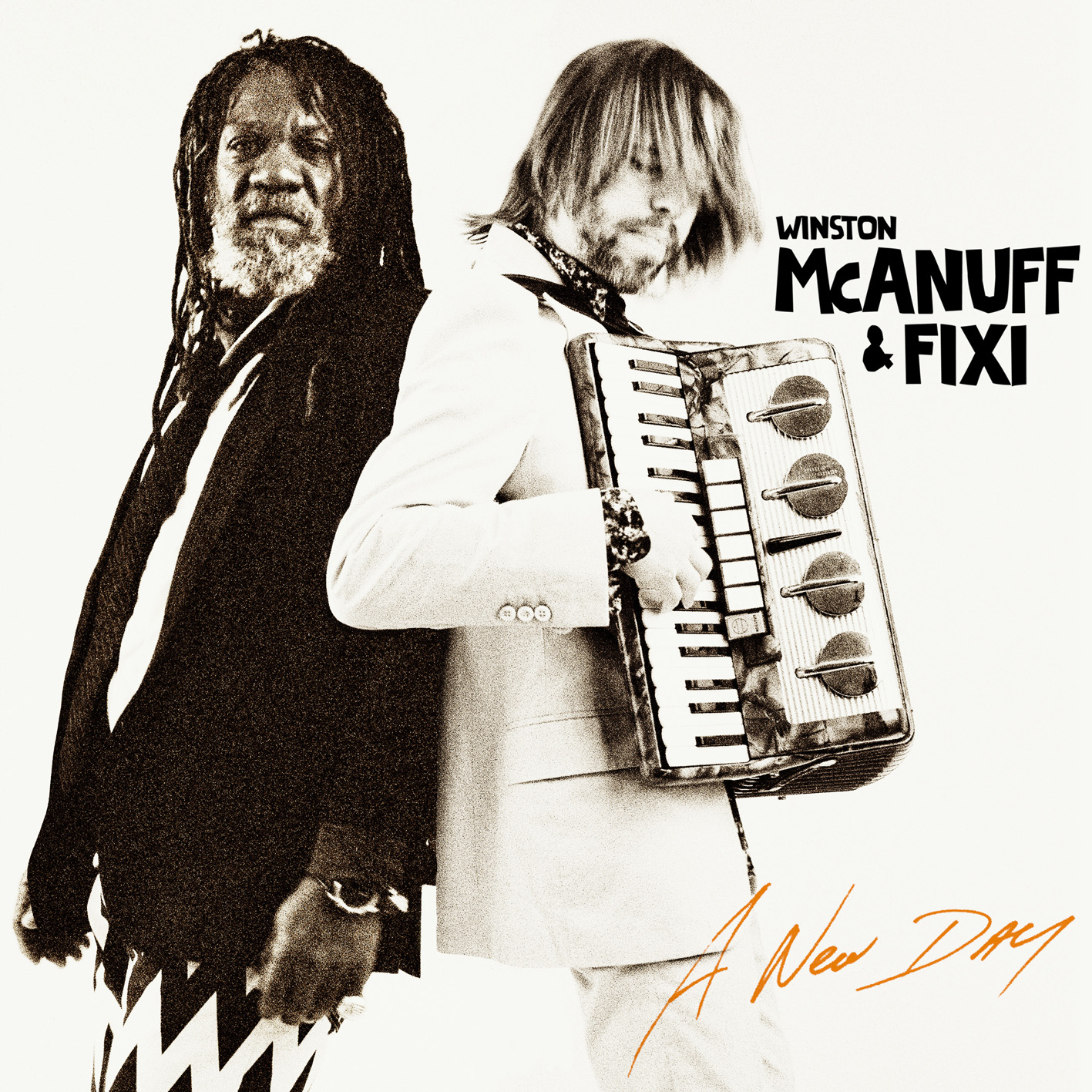 Something mighty happens when Winston McAnuff and Fixi come together : something off the scale.
Onstage, the veteran Jamaican artist and the radical French accordionist and keyboard player create a force so powerful that it regularly sends McAnuff into lock-flailing, body-slamming frenzies.
There are those who've watched, open-mouthed, at festivals and venues in Europe and East Africa who will swear they've seen lightning shooting from Fixi's fingertips as he plays.
"People are always telling me that this music gives them goose-bumps," says the grey-bearded McAnuff, a roots reggae stalwart currently enjoying second stardom in France. "They say it does things to them they can't explain."
Think a meeting of minds, and a merging of cultures. Think hope, and heart, and barriers melting away. Then imagine a project so audacious, so startlingly original, that only true musical visionaries could make it work.
And welcome A New Day.
Capturing this mighty feel on record was never going to be easy. But aided by a clutch of high-profile friends including the producer Olivier Lude (Vanessa Paradis, M), A New Day is the album that Winston McAnuff & Fixi wanted to make.
Here are message-driven lyrics delivered in McAnuff's dog-eared tenor: "Singing songs that will change someone's life for the better is what gives me the strength to do the thing," says McAnuff in his sage-like way. "It's good to be gaining something while you're dancing."
Here is reggae, soul and blues. Nigerian Afrobeat, Brazilian samba and Colombian cumbia. Maloya rhythms from Reunion Island in the Indian Ocean off the coast of East Africa; rock-musette from France, as reinvented and reclaimed by the far-sighted Fixi.
"When I started playing accordion twelve years ago I wanted to change its clichéd status in France," says the boyish composer, arranger and multi-instrumentalist, founder of popular French rock-musette outfit Java and a man widely regarded as one of his country's most prolific creatives.
"I connected French folk with hip-hop and Afrobeat and gave it a new lease of life," he says with a grin. "On this project I'm using the accordion to express the call-and-response element in African
music, to make something more magical."
Garden of Love, the album's upbeat opener, is a case in point, recalling French squeezebox anthem il est cinq heures, Paris s'éveille as it mixes classical, percussion and deft special effects to open the gate: to set the scene for A New Day.
"We're letting people know that love is always around even if it isn't always visible to the eye," says McAnuff. "It's a song about living optimistically, in peace."
Sharing the duo's one-love aesthetic are some seriously special guests: legendary ex-Fela drummer Tony Allen, with whom Fixi has collaborated on keyboards and as artistic director for over a decade. On guitar, iconoclastic French rocker M, another of Fixi's longtime mates and colleagues.
More old friends: double bassist Tom Fire; percussionist Cyril Atef; drummer Alexis Bossard, who happens to be Fixi's younger brother.
New friends: Olivier Araste, frontman of rising world stars Lindigo, a Reunion maloya outfit whose recent album was produced by… yep, you got it. Fixi. Both McAnuff and Fixi regularly grace the famed Sakifo Festival on Reunion Island, where the ancestor-rousing maloya rhythm was created by African and Malagasy slaves and banned until as recently as 1981.
"I'd never worked in 6/8 before so I listened to maloya for two days solid," says McAnuff of tracks such as One, Two, Three and Economical Crisis – an anti-recession number that features Lindigo
percussionists on traditional instruments including rouleur drum and kayamb shaker.
"I tested my brain to see if I could manage this timing." He pauses, smiles. "When I entered it, the spirit inside this music is wild."
On One, Two, Three, Fixi added keyboards and classical cello to the background of the fierce maloya beat: "Then M did guitars on top," he says. "I wanted to do something more modern in 6/8. Something more groovy."
The album's moods are as wide-ranging as its influences: Johnny is a banged-up ballad about a wayward kid, while You & I is a moreish slice of Afrobeat heaven and Let Him Go a swirling, horn-
flecked cha-cha-cha around the ghetto.
"I'm a rebel, 24/7," intones McAnuff on the loping, reggae-fuelled Rebel. "I'm a rebel from earth to heaven."
Then there's the title track, a shimmering ode to love and Jah, to brighter times ahead. A track lent authenticity by McAnuff's lived-in voice and lived-in life: one of eight children born to an accordion-playing farmer and preacher, Winston went on to release a series of reggae albums in Jamaica, where he went by the nickname Electric Dread.
Tough times and a failing record industry saw McAnuff drop out of sight in the mid-1980s – there was a stint living rough in Kingston's Halfway Tree Park – before fronting up in Europe in the early Noughties to touch base with his old roots reggae friend and collaborator, Earl 16.
"I wanted to see what would happen for me musically," McAnuff says. "I went to France to watch 16 play, met the right people and the whole thing started from there."
McAnuff's first two albums and a compilation, Diary of the Silent Years, were released to acclaim in France; in 2005 he recorded the explosive A Drop with French singer and keyboard player Camille Bazbaz. In 2006 he went into a studio to cut an album with rock-musette gang Java; there, a button accordion strapped to his chest, was Fixi.
"I got Winston to sing on a waltz-inspired track and we just clicked," says Fixi, a doctor's son with a restless curiosity and a penchant for flat caps. "We made an album" – 2006's lauded, funk-and-reggae-inspired Paris Rockin' – "that sold 20,000 copies."
Now here they are again, more in sync than ever. Winston McAnuff & Fixi: a duo this time, walking a tightrope over a trail that's got deeper and wider. Trusting in each other, in their friends, in the
Almighty Jah Rastafari.
"We're doing something for everyone, and we're not reproducing anything," says McAnuff. "I'm at a liquid phase of my career so it is easy for me to fit in wherever."
"We both love to lose ourselves in the music," says Fixi. "There are times onstage when I forget where we are, and I'm gone. This thing we've created…"
He shakes his head. "It's big," he says.
It's A New Day.
Jane Cornwell
Tracklist
1. Garden of Love
2. One Two Three
3. You and I
4. Wha Dem Say
5. Johnny
6. I'm a Rebel
7. Heart of Gold
8. Economical Crisis (Coconut)
9. Don't Give Up
10. If You Look
11. Let Him Go
12. A New Day
13. Jah is All We've Got
14. Sankara
15. Things Happen
16. Strange
Et aussi...